Weather Pack Splices
Crimp an adhesive lined heat-shrink butt connector onto wire, apply heat, and shrink the tubing for a secure, sealed connection. Cold-crimp moisture-resistant butt connectors are filled with a heat-resistant grease. and are double- crimped onto wire.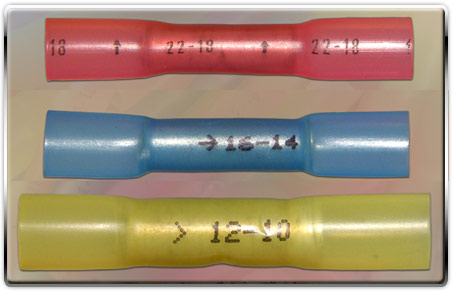 Adhesive Lined Heat Shrink Butt Connectors
The finest environmentally-sealed splicing device available
The best seal
The best strain relief
Tough cut-resistant insulation
Resistance to most chemicals
Seamless annealed copper tube within a tough TMW polyolefin heat shrink insulation lined with heat-activated adhesive
Crimp with standard crimp pliers and heat
With 275° F of heat applied with heat gun or torch, the insulator shrinks tightly to wire and the adhesive flows to seal the splice.
Rated for temperature range -67° F to +230° F.
| Wire Range | Part Number | Color |
| --- | --- | --- |
| 22-18 gauge | 61-SH | Red |
| 16-14 gauge | 62-SH | Blue |
| 12-10 gauge | 3-SH | Yellow |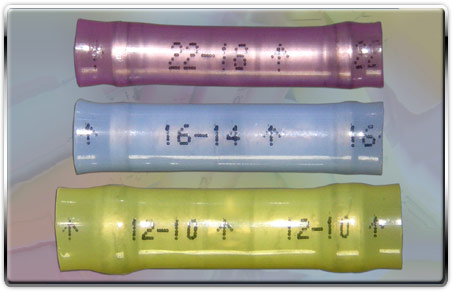 Cold Crimp Moisture Resistant Butt Connectors
No heat gun or torch required
Good protection with easy installation
Installed with standard crimp pliers
Tough translucent Nylon insulator
Double-crimp brass insulation grips
Fully annealed E.T.P. copper interior
Filled with non-toxic heat-stabilized grease
Resistant to salt spray and most automotive chemicals
Wire Range
Part Number
Color
22-18 gauge
61-NBM
Red
16-14 gauge
62-NBM
Blue
12-10 gauge
63-NBM
Yellow