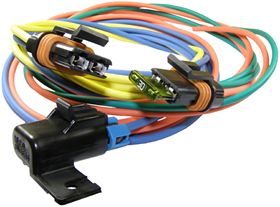 Custom fuse holders are usually produced in quantities of 100 to 1,000 pieces.
Fuse holders can be manufactured to meet unique requirements. Options include different wire sizes and colors, non-standard wire lengths, special labeling and special packaging. These items are built in-house with Delphi Packard components or our proprietary sealed MINI fuse holder cap.
---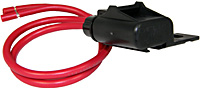 Leads on this fuse holder are cut to different lengths, one 9.5 inches long and one 10.3 inches long. They are partially stripped, and the insulation is left in place to secure wires until it is put into service.
---
Specialized version of our most popular sealed fuse holder utilizing four-foot leads.
---
Popular MINI® fuse holder tailor-made to feature 14-gauge Type SXL ten inch leads.
---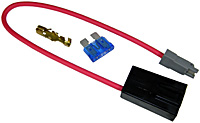 Custom fuse kits were made for use in post office vehicles. This kit has a 14-gauge wire and includes a power plug, 15-amp Type ATO®-ATC® fuse, and an extra fuse holder terminal.